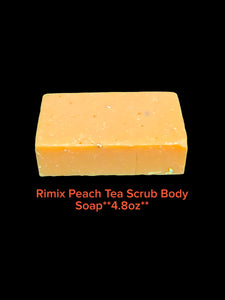 Rimix by Rico Peach Tea Scrub Soap is hand-crafted using the highest quality ingredients to ensure each bar is a premium product to meet the needs of our customers.
Description:  After years, we have the best quality sweet peach fragrance mixed with the subtlety of white tea leaves. Base notes of other orange and other citrus. Our soap offers cleansing and rejuvenating to the skin with oils that are rich in vitamins and antioxidants, and have been linked to improved skin moisturization, anti-aging effects, and relief from sun damage.  It contains sea salt and ground oatmeal as a double exfoliant!
Ingredients:
Olive Oil
Soybean Oil
Coconut Oil
Canola Oil
Sunflower Oil
Organic Shea Butter
Water
Sodium Hydroxide (Lye)**
Sea Salt
Ground Oatmeal
Fragrance
D&C Color
INCI: Olea Europaea (Olive) Oil, Glycine Soja (Soybean) Oil, Cocos Nucifera (Coconut) Oil, Canola Oil, Helianthus Annuus (Sunflower) Seed Oil, Butyrospermum Parkii (Shea Butter), Aqua, Sodium Hydroxide, Fragrance. May contain FD&C color.
**This is mixed with the oils to create glycerin which helps in moisturizing the skin and decreasing dryness caused by most store bought soaps.